Where to Look for Damian Lewis: From 'Band of Brothers' to 'Billions'
(Photo: Getty Images)
Damian Lewis has been a regular on Anglophenia for a while now, going back to 2012 when he won an Emmy for his performance in Homeland. More recently, you may have spotted him as hedge fund expert Bobby Axelrod in the series Billions (2016-2021).
It was recently announced that Lewis is making his exit from the drama, and will not be returning for season six, reports ComingSoon.net.
Billions creator Brian Koppelman turned to Twitter to share a heartfelt goodbye, with Lewis returning the sentiment: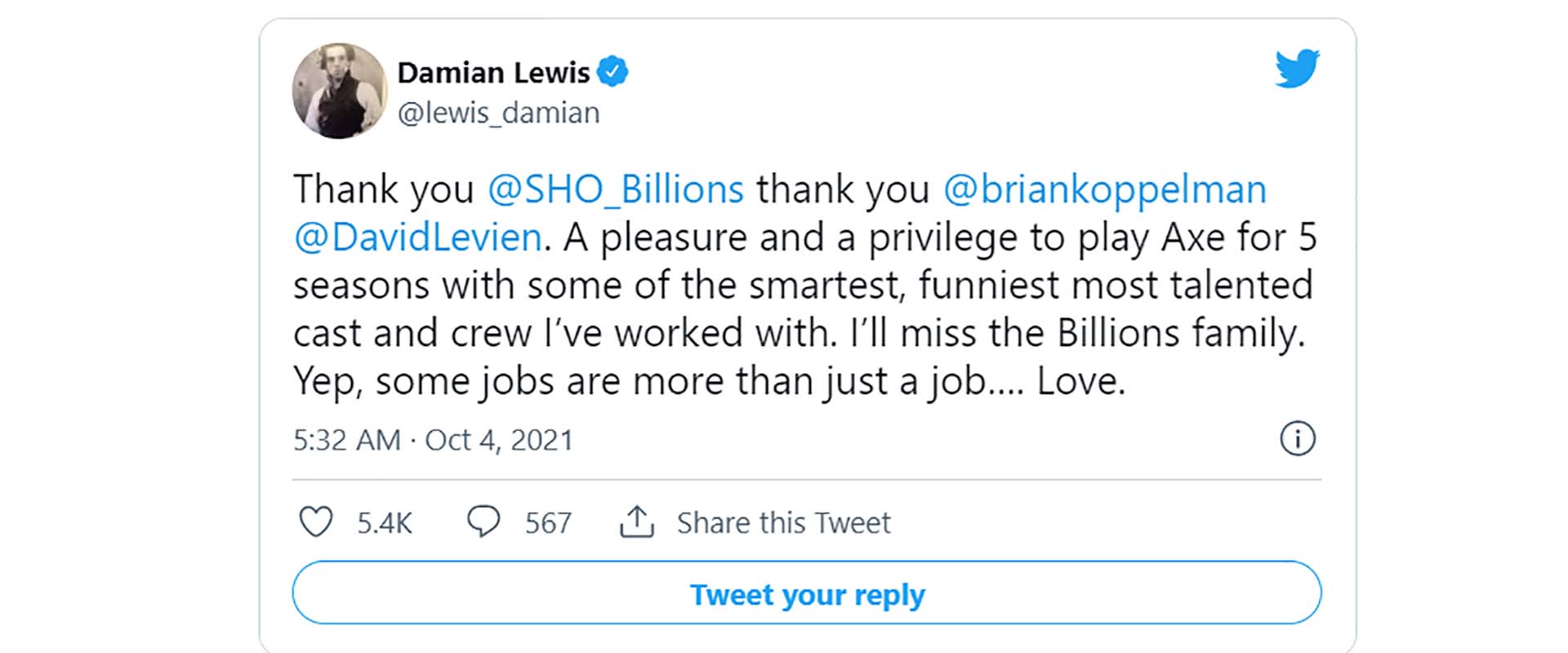 (Photo: Twitter)
While his role on Billions has come to an end, we still have Lewis' earlier work to enjoy:
1. Band of Brothers
One of Lewis' earlier roles was in the 2001 miniseries Band of Brothers. The story revolves around a military unit, referred to as Easy Company, which is part of the U.S. Army's 101st Airborne Division. Based on true events, but dramatized for screen, we see the soldiers in training and going to battle during WWII. Lewis portrays Major Richard Winters, who leads the missions while trying to keep his men safe.
2. The Foryste Saga
We also saw Lewis in the period drama The Forsyte Saga, which ran from 2002-2003. The series spans from the 1870s to 1920, covering three generations of the Forsytes, an affluent family based in England. Lewis takes on the role of family member Soames Forsyte, who is a solicitor. He considers himself a man of property, apt at accruing wealth, but it doesn't bring him fulfillment.
3. Dreamcatcher
In 2003, Lewis went the sci-fi route, starring in the movie adaptation of Stephen King's Dreamcatcher. The story revolves around four lifelong friends who go on a typical camping trip. But, the town they find themselves in is anything but typical. It appears it's overrun with parasitic aliens. Let's just say, Lewis' character, Jonesy, doesn't stay Jonesy for long. He is one of the first to be turned.
4. Life
In 2007, Lewis made his way stateside, starring in the police procedural Life. He takes on the role of former police officer Charlie Crews. Crews is framed for murder and spends 12 years in prison. Upon release, he proves his innocence and goes back to active duty. His new partner asks him why he made the return, with him saying, "When I was doing all that time, I always knew I was a cop."
5. Romeo and Juliet
Romeo and Juliet is the classic that never gets old, with Lewis starring in a 2013 movie adaptation. The story follows two star-crossed lovers who can't be together, as their families are at odds. Lewis portrays Lord Capulet, Juliet's father. And, he is not happy when he finds out she's been canoodling with a Montague, shouting at her, "Then you are mine no more, so help me God."
6. Homeland
If Lewis weren't already internationally known in 2011, Homeland changed that, grabbing the attention of the world. Lewis stars as POW survivor Nicholas Brody, who returns home to his family in the U.S. following imprisonment and torture. While he is considered a hero to most, CIA agent Carrie Mathison (Claire Danes) has her doubts. She becomes fixated on Brody and proving her suspicions true.
7. Wolf Hall
We then saw Lewis in the 2015 miniseries Wolf Hall. The story follows Thomas Crowell (Mark Rylance), who becomes an advisor to King Henry VIII (Lewis) following the death of his employer, Cardinal Thomas Wosley. Being so close to the King may come with its benefits, but it's also dangerous. It doesn't seem to sway Cromwell, though, with him working to prove his loyalty.
8. Once Upon a Time in... Hollywood
We saw Lewis take on the role of real life actor Steve McQueen in 2019's Once Upon a Time in... Hollywood. Writer-director Quentin Tarantino's dramedy follows a television actor (Leonardo DiCaprio) and his stunt double (Brad Pitt), who are living out their glory days. The two get involved with Charles Manson, not knowing his true nature — that he has a hit list — which includes McQueen.
9. Dream Horse
Just this year, we saw Lewis in Dream Horse, which is based on a true story. We see Toni Collette as Jan Vokes, a bartender, who overhears a patron (Lewis) talking about once owning shares of a race horse. It gives her the idea to ask friends and neighbors to chip in £10 once a week, for two years, and they will all raise the horse together. Which is just what they do, naming him Dream Alliance.
10. Billions
Billions premiered in 2016, with the fifth season concluding this past weekend (October 3), marking Lewis' final performance. The series kicked off with U.S. Attorney Chuck Rhoades (Paul Giamatti) going after Bobby Axelrod (Lewis). Axe credits his success with knowing how to analyze information better than everyone else. Rhoades has a difference of opinion, that there are suspect trading patterns.
Are you looking forward to what's up next for Damian Lewis?