Casting News: Donald Sutherland to Star in Movie Adaptation of Stephen King's 'Mr. Harrigan's Phone'
(Photo: Getty Images)
We recently saw Donald Sutherland in the breakout series The Undoing, opposite Nicole Kidman and Hugh Grant. There's also been mention of him starring in the forthcoming sci-fi thriller Moonfall.
Adding to the mix of genres he's been tapping into of late, he's now signed on for a Stephen King adaptation, reports ComingSoon.net.
We can look for Sutherland in the Netflix movie Mr. Harrigan's Phone, based on a short story by King. The story revolves around a young boy who befriends an older gentleman, by the name of Mr. Harrigan, played by Sutherland. When Mr. Harrigan passes away, the boy puts a phone in the dead man's pocket before being buried.
Missing his friend, the boy sends off a text message. When he gets a response, he is understandably rattled.
If you'd like to read the short story, you can find it in King's novella If It Bleeds.
John Lee (Saving Mr. Banks) is set to write and direct the movie adaptation, which will also star Jaeden Martell as the young boy.
Blumhouse, the production company behind the project, has turned to Twitter to make the announcement officially-official: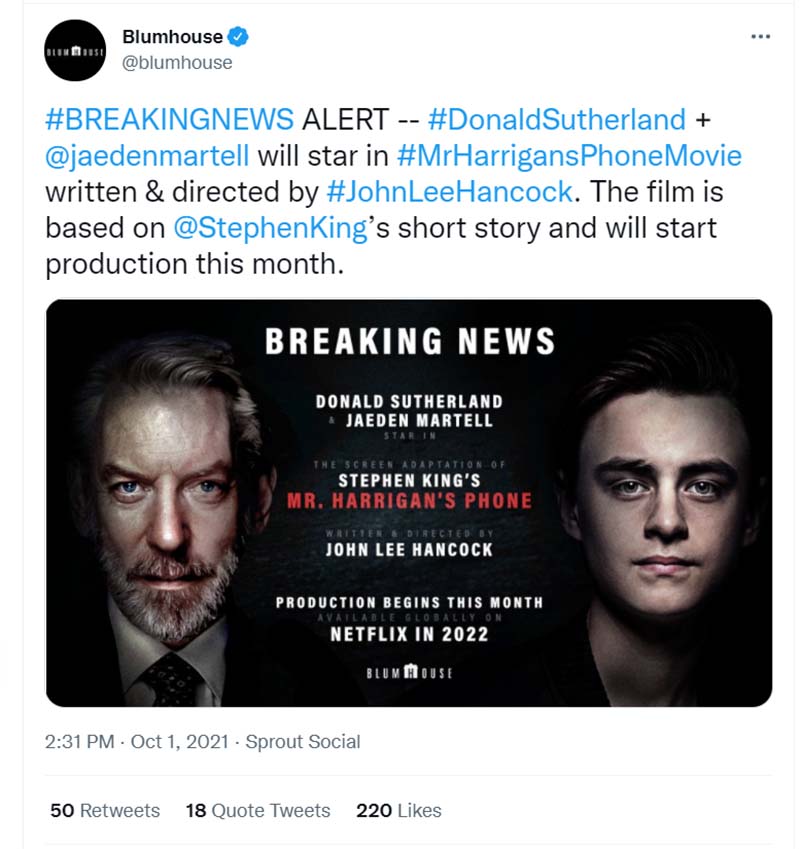 (Photo: Twitter)
As mentioned in the above, production begins this month with a premiere date set for 2022.
Have you been enjoying the Stephen King adaptations rolling out?