2021 Fall TV Preview: From the Return of 'The Morning Show' to the Premiere of AMC+'s 'Ragdoll'
(Photos: Getty Images)
The air is getting a little cooler and with that, fall is on its way. Also, TV channels are gearing up for new programming.
We all have our go-to series, and with the good comes the... hiatus... and we are left waiting for a new batch of shows to come out.
We've put together a roundup of returning series and new shows to look for in the coming months:
1. The Premise, September 16
B.J. Novak (The Office) has created a new anthology series, called The Premise. The first installment of the series will consist of five episodes, set in modern times, with each episode having a new storyline and new cast. The series is an FX original and will be premiering on the streaming service Hulu, with the first two episodes kicking off on September 16.
2. The Morning Show, September 17
The Morning Show shook things up in 2019, tackling toxicity in the workplace. We can look for season two, premiering on September 17, and the return of original cast members Jennifer Anniston, Reese Witherspoon, Billy Crudup and Steve Carell. In the first season, Carell's character was fired, with his on-air partner (Anniston) left to pick up the pieces. It seems there are still some remnants left.
3. Maid, October 1
Based on Stephanie Land's 2019 memoir Maid: Hard Work, Low Pay, and a Mother's Will to Survive, the forthcoming Netflix series, Maid, follows a young woman (Margaret Qualley), trying to make a living and raise her small child. While it may sound strenuous, she takes it in stride and embraces the fulfillment that comes with a good day's work. The joy of being with her daughter provides balance.
4. Ghosts, October 7 
Based on the 2019 BBC series, we will be getting an American version of Ghosts. The comedy revolves around a married couple who inherit an estate and decide to turn it into a bed and breakfast. As the title suggests, they already have some guests, who checked in even before the new owners arrival. The couple can't see the ghosts at first, but after a near death experience, the wife... can. And it's quite disconcerting.
5. You, October 15
Penn Badgley is set to return as Joe in the third season of the killer-thriller series You. In seasons one and two, we saw Joe put all of his focus (and fixation) on finding love and getting rid of anyone who got in his way. In season three, Joe is now an expectant father, living in the suburbs. It seems he wants to change his ways, to be a good role model, but we have a feeling he still has that innate killer instinct.
6. Invasion, October 22
Apple TV's sci-fi series, Invasion, revolves around an alien takeover. We will say, they are not friendly, and threaten human existence. The story is told through the eyes of five people, across the globe, and how they handle what's happening in front of them. The series is inspired by H.G. Wells' novel The War of the Worlds, with Sam Neill leading an ensemble cast.
7. Ragdoll, November 11
From the folks who brought us the BBC America original Killing Eve, Sid Gentle Films, you can look for the AMC+ dark comedy Ragdoll. Based on Daniel Cole's 2017 novel, the story revolves around a sinister crime, when six people are murdered, dismembered and sewn together into one body. Set in London, three detectives (Henry Lloyd-Hughes, Thalissa Teixeira, Lucy Hale) are assigned to the case.
8. Cowboy Bebop, November 19
[caption id="attachment_478047" align="alignnone" width="1450"]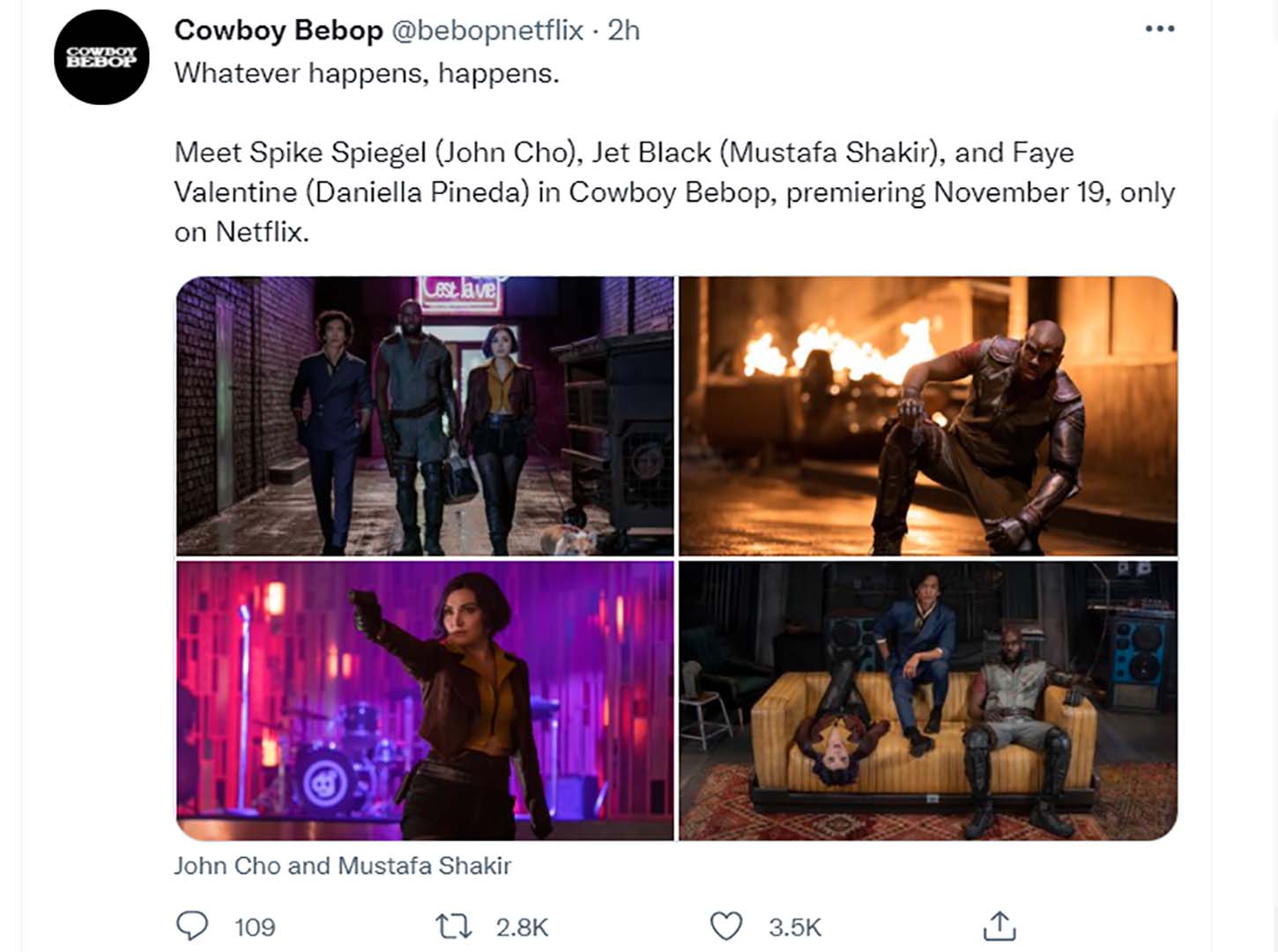 (Photo: Twitter)[/caption]
The Japanese anime series Cowboy Bebop is being brought to life, with John Cho taking the lead in the live-action adaptation. Cho (Star Trek) is set to take on the character of Spike Spiegel. The story revolves around a group of bounty hunters who are in search of the galaxy's most pricey criminals. Spiegel is a former hitman-turned-leader of this ragtag group. It may take a (former) criminal to find a criminal.
9. The Shrink Next Door, November 12
Based on the true crime podcast, The Shrink Next Door tells the story of one doctor abusing his position. We see Paul Rudd as Dr. Herschkopf, a psychiatrist, who gets way too involved in his patients' lives. One being Marty Markowitz, played by Will Ferrell. When Marty goes to see Dr. Herschkopf, he says everything is fine. Everything isn't fine. The therapy helps, but things take a turn when boundaries are crossed.
10. The Great, November 19
The period dramedy The Great premiered in 2020, starring Elle Fanning and Nicholas Hoult. Fanning takes on the role of a royal who "marries up" to become Empress of Russia, eventually known as Catherine the Great. The first season depicts her younger years, marrying Peter III of Russia (Hoult) and her dangerous thoughts of getting rid of him. In season two, she still despises her husband.
We've provided a snapshot of what's out there, do you have any additions!?