10 Sherlock Holmes Adaptations to Mull Over in Your 'Mind Palace'
Sir Arthur Conan Doyle started off his career as a physician, but with his practice being slow he had time to write. And... write he did. He's not only the creator of the famed sleuth Sherlock Holmes and his trusty aid Dr. John Watson, but his stories have inspired a number of adaptations.
Here's a mix of TV series and movies to scratch that Sherlock itch:
1. Sherlock (2010-2017)
https://www.youtube.com/watch?v=mDdfAKGpyuE
Shall we start off with the most obvious adaptation, well, obvious to us, being our favorite — BBC America's Sherlock stars Benedict Cumberbatch in the title role, with Martin Freeman as his Watson. The series is created by writing duo Steven Moffat and Mark Gatiss, with the latter also starring in the series as Sherlock's older brother Mycroft. We should point out, "mind palace," as seen in the headline, is pulled from this series vs. Doyle's work, but we have a feeling the author would be on board with the term. The BBCA series is a modern-day retelling, starting off with the first episode, "A Study in Pink," with the episodes to follow playing off of one of Doyle's established premises. There are four seasons total, with fans anxiously awaiting signs of a fifth to come... (we're still crossing our fingers).
2. Sherlock Holmes (1916) 
[caption id="attachment_466122" align="alignnone" width="2000"]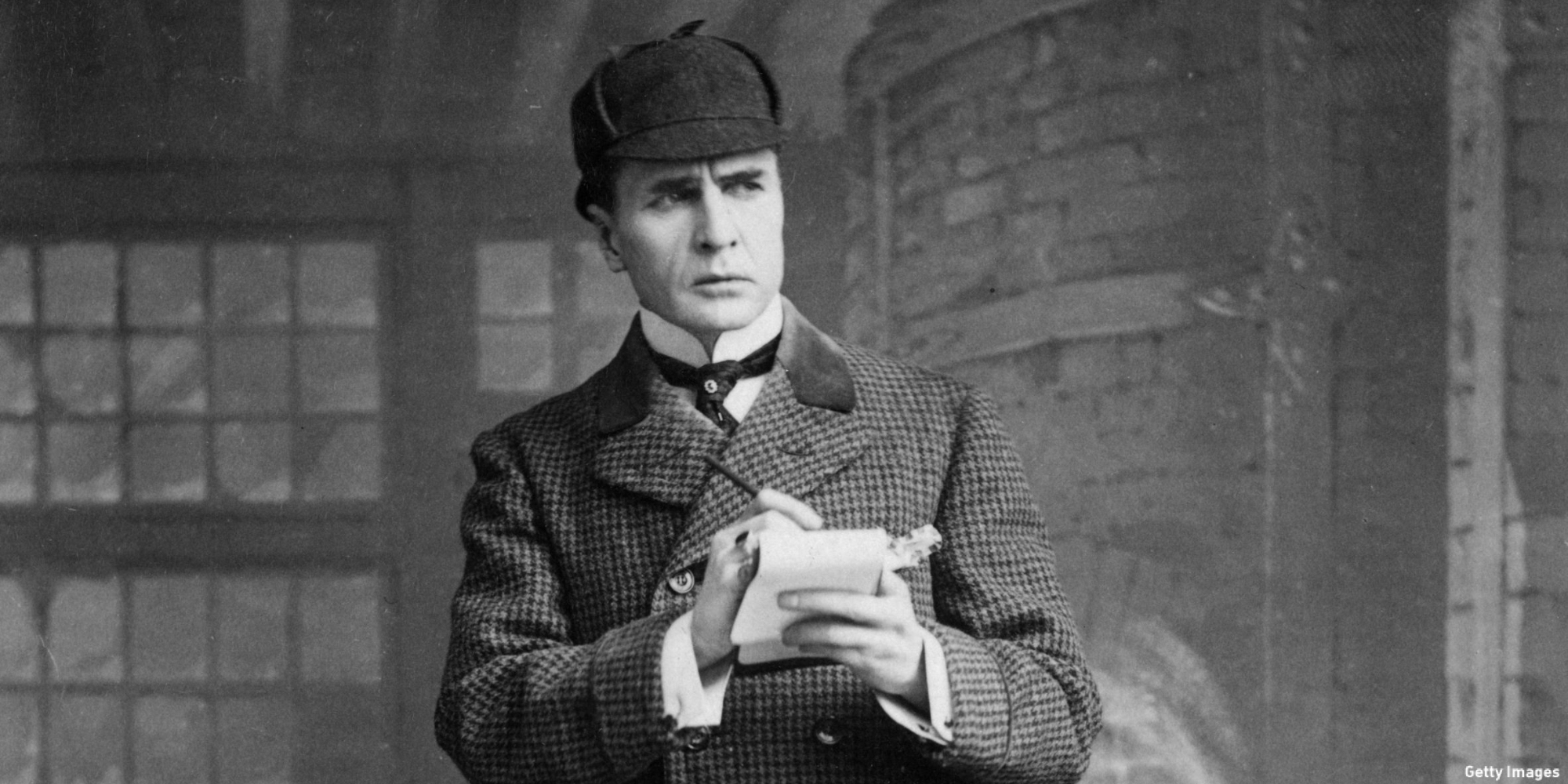 (Photo: Getty Images)[/caption]
Let's backtrack and revisit the first movie adaptation, which premiered in 1916. Simply called Sherlock Holmes, the silent film starred William Gillette in the title role. It's based off of three of Doyle's stories, A Scandal in Bohemia, The Final Problem and A Study in Scarlet. In 1939, Basil Rathbone picked up the baton, starring in The Adventures of Sherlock Holmes. Between 1939 and 1946, he made 14 Sherlock Holmes movies in total.
https://www.youtube.com/watch?v=YKYM2gVdfu4
3. Sherlock Holmes (1954-1955)
https://www.youtube.com/watch?v=sb9Q5g-IjfA
Before there was Sherlock, there was the 1950s series starring Ronald Howard as the inquisitive detective. He starred opposite Howard Marion-Crawford as Watson, with Archie Duncan taking on the role of Inspector Lestrade. The series ran for two seasons, with 39 episodes. The series kicks off with the first episode, "The Case of the Cunningham Carriage." When Lestrade is baffled by a case, Holmes steps in to provide his expertise in deduction. He and Watson, who has just returned from Afghanistan, hit it off and become roomies on Baker Street.
4. The Adventures of Sherlock Holmes (1984-1985)
https://www.youtube.com/watch?v=LMAroBYfJxs
Jeremy Brett might be the most notable actor to play Sherlock Holmes. He didn't only star in the 1980s series The Adventures of Sherlock Holmes, but follow-ups like The Return of Sherlock Holmes (1986-1988), The Case-Book of Sherlock Holmes (1991-1993), The Memoirs of Sherlock Holmes (1994) and the made-for-TV-movie The Hound of Baskerville (1988). Brett didn't stop there, also appearing in the 1988 and 1989 stage productions of The Secrets of Sherlock Holmes. Brett's known to have famously said, "Holmes is the hardest part I've ever played, harder than Hamlet or Macbeth." That's a lot of Sherlock for one actor, but he did a fine job of cornering the market.
5. Elementary (2012-2019)
https://www.youtube.com/watch?v=aRMBFMXyf-Q
In 2012, CBS changed things up a bit, naming their Sherlock-centric series Elementary. It plays off of the one-liner delivered by Sherlock, when asked about his deductive reasoning, "Elementary, my dear Watson." Johnny Lee Miller, who you may remember from 1996's Trainspotting, takes on the title role. This version is set in modern-day NYC. His Watson is played by Lucy Liu (Ally McBeal), who is also a sober companion for the slightly "soaked" Sherlock. While Elementary has made some alterations to the original stories, Sherlock is still just as neurotic as he is brilliant.
6. Mr. Holmes (2015)
https://www.youtube.com/watch?v=0G1lIBgk4PA
In 2015, Sir Ian McKellen stepped into the role of Sherlock Holmes, aka Mr. Holmes. With Holmes being retired and aging, this is a continuation of the story. He's suffering from early on dementia and struggles to remember his final case. There is something about it, a woman, that weighs on him. His housekeeper's young son (Milo Parker) offers to step in as an aid. This Holmes isn't quite what his neighbors were expecting, as he doesn't smoke a pipe but rather a cigar. Holmes credits that with Watson's storytelling, which in some cases he may have elaborated a bit.
7. Young Sherlock Holmes (1985)
https://www.youtube.com/watch?v=-wwkx6d6_AI
On the other end of the spectrum, in 1985 there was a teenage version of Holmes in Young Sherlock Holmes. We get to see the origin story of this very complicated man. Directed by Barry Levinson, Nicholas Rowe takes on the role of the sleuth-in-the-making. When people start having delusions that lead to their death, the young Holmes takes it upon himself to investigate. You can look for Alan Cox (The Good Wife) as Watson, a school friend of Holmes.
8. Sherlock Gnomes (2018)
https://www.youtube.com/watch?v=zC9b1orltc8
When garden ornaments go missing, Sherlock Gnomes (Johnny Depp) is called on to investigate. Yep, you read that right, "Gnomes." In this animated movie, a follow-up to 2011's Gnomeo and Juliet, we get an unexpected twist on the adventure story. Gnomeo (James McAvoy) and Juliet (Emily Blunt) move to a new garden to live their happily ever after (unlike Shakespeare's original play), but soon after their arrival, there's trouble. With the help of Sherlock Gnomes, and other pals from the garden, they work to stave off this impending doom.
9. Holmes & Watson (2018)
https://www.youtube.com/watch?v=-AKU-T7_rDA
In 2018's Holmes & Watson, two Americans, very funny Americans at that, Will Ferrell and John C. Reilly, take on very traditionally English roles. Ferrell plays Holmes, with Reilly as his sidekick Watson, both donning stiff upper lip accents. While it's a different slant, the story is still the same... just with more slapstick than usual. You can also look for Ralph Fiennes as the just as infamous Professor James Moriarty.
10. Sherlock Holmes (2009)
https://www.youtube.com/watch?v=J7nJksXDBWc
Robert Downey Jr. took his turn as Sherlock Holmes in 2009. His version was a bit messier and rambunctious than what we're used to. We like to think of Sherlock as reliable, being predictably systematic (even when he is slightly erratic, we trust there is a reason). Even so, this Sherlock does carry his weight, being able to see things that others cannot. And, per usual, we can count on the stodgy Dr. Watson (Jude Law) to keep his head on straight in trying situations. The cast is rounded out with Mark Strong as Lord Henry Blackwood, Rachel McAdams as Irene Adler and Geraldine James as Mrs. Hudson. This and the 2011 sequel are both directed by Guy Ritchie.
Bonus: Enola Holmes (2020) 
https://www.youtube.com/watch?v=1d0Zf9sXlHk&feature=emb_logo
And, premiering today (September 23), Sherlock's little sister, Enola Holmes (Millie Bobby Brown), is hopping up onto the big screen. The story is based off of the YA novels by Nancy Springer. This is a continuation of Doyle's stories, a reimagination of sorts, but even so, she seems to share some of the same traits as her famous older brother (Henry Cavill). In the new movie, Enola's mother has gone missing and she makes it her mission to find her. All the while, avoiding her brothers' attempts to ship her off to finishing school.
Everyone has their favorite Sherlock, who's yours?